Check out our plans
See plans

Why Lucky Mobile?
Learn more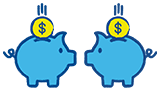 Refer-A-Friend and save
Learn more
1 Limited time offer. One-time SIM Card charge applies. Applied as a credit to your third month of service for the price of your rate plan before taxes.
2 Current as of November 25 2022. One-time SIM Card charge applies. Offer subject to change without notice. Up to 120 GB of bonus data with a new activation on a minimum $35/mo. plan, applied as a 10GB/mo. bonus for 12 months. Not available at Dollarama, The Source, Easyhome or Circle K – visit a Dollarama store, a Circle K store, The Source or an Easyhome store to learn about another bonus offer.